Welcome to the
Feline Association of
South Australia
FASA is a registering body for pedigreed cats in SA established in 1973 and is focused on promoting excellence in the care, breeding and exhibition of cats.
Please direct ALL ENQUIRIES & CORRESPONDENCE to the
FASA Secretary
Email: FASA Secretary
Bank details BSB: 035 046 Acct No: 437128
Westpac Modbury
FASA is affiliated with the
Co-ordinating Cat Council of Australia
Owning, breeding and exhibiting cats is a fun and rewarding hobby. If you are interested in a pedigree cat or kitten please visit the breeders page. If you would like to show your cat (including the lovable domestic) you can find out all about future shows on the upcoming events page.
Want to become a FASA member please go to the membership page.

Any questions, please feel free to contact FASA via the contacts on the committee page
The Management committee and members hope you enjoy your visit.
FASA Banking details:
Westpac - Modbury
BSB: 035 046
Acct No: 437128
Account name: Feline Association of SA
"With their qualities of cleanliness, discretion, affection, patience, dignity, and courage, how many of us, I ask you,
would be capable of becoming cats?"
Fernand Mery Her Majesty the Cat
LIFE MEMBERS
Bill Mansell (dec)
Margaret Mansell
Anne Fanning
Margaret Robertson (dec)
Dr Julia Nicholls OAM (dec)
Helen Whittle
Cheryl Ross
Ashley Noonan (dec)
Barbara Kemp
Lee Caldwell

Adelaide SA
~~~~~~~~~~~~~~~~~~~~~~
NOTICE BOARD
Click here to download nomination form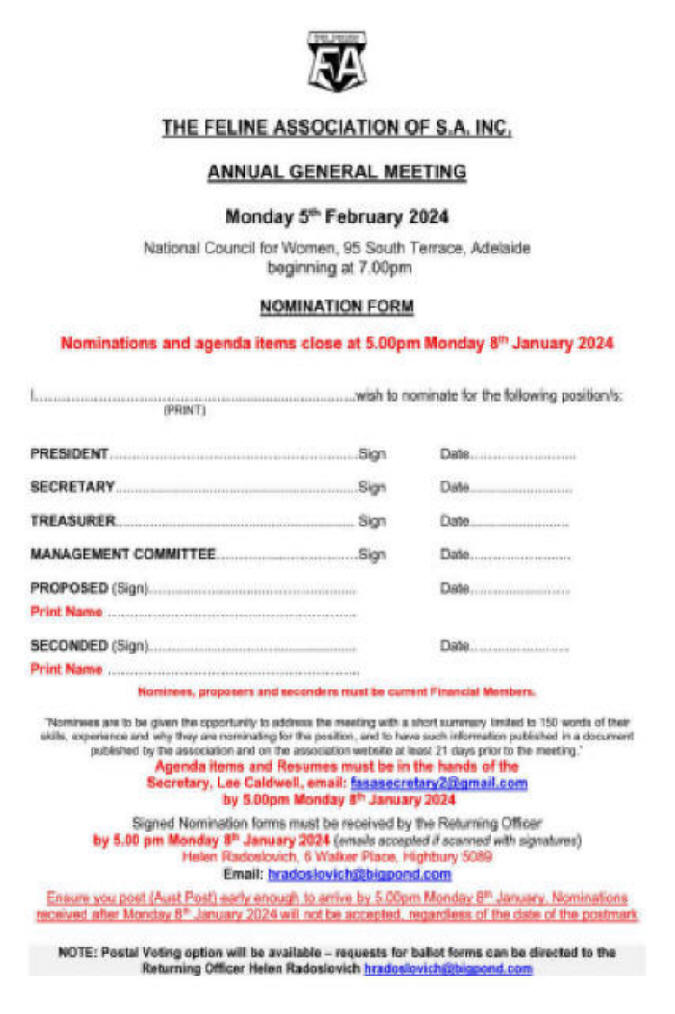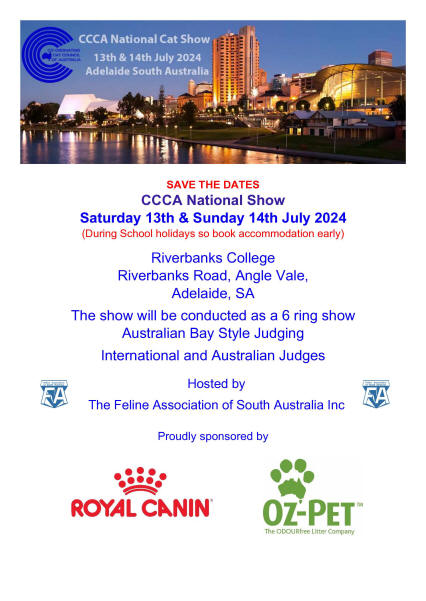 ~~~~~~~~~~~~~~~~~~~~~~~~~~~~~~~~~~~~~~~
FEES & CHARGES 2023
(as from 1/1/2023 the following fees will apply)

Litters (under 6 months of age) $10.00
Litters (over 6 months of age) $15.00
Individual Kittens (under 6 months of age) $10.00
Individual Kittens (over 6 months of age) $15.00

Transfers of ownership $10.00
Honours $10.00
The cost of paper, printing ink and postage have all increased over the past few years and fees need to increase in line with that.
Breeders are reminded that under FASA Breeding Rules
ALL Litters and Individual Cats/Kittens
must be registered,
the rules are available on the website as below
BREEDING RULES (Page 8 refers)
effective 1st March 2019
~~~~~~~~~~~~~~~~~~~~~~~~~~~~~~~~~~

FASA HIRE CAGES
As from the start of the 2019 show season
hire cages will not be available to exhibitors, all exhibitors must provide their own cages.
New Exhibitors will still be able to hire 21" x 21" cages. Use of these cages will be for a maximum of three shows at a hire fee of $2.00 per cage per show. After three shows the new exhibitor will need to purchase their own cages.
This has come about due to the lack of response for extra help at setup and pull down of shows. The cages are a particularly heavy item when a large number must be unpacked and re packed. The cages are unable to be stored on the FASA trailer due to weight restraints and consequently have had to be stored and brought to shows by a third party. The discontinued use of hire cages will make the setup and pull-down task much easier for those few that do the work. We thank you for supporting this move by providing your own cages.
~~~~~~~~~~~~~~~~~~~~~~~~~~